Purchasing a smartphone doesn't necessarily mean spending lots of money in 2020. When it comes to the best phones on the market, android phones and iOS iPhones tend to be among the top contenders. This rapidly growing trend is important for the long-term viability of new app developers as well. Luckily, you can spend only $200 or less to have a new handset without having to compromise on basic features and quality.  
Best Phone
s
Under 200:
 
Here, we have composed ten cheap phones that carry tremendous value for your money with low-end specifications.
1: Nokia 4.2 Review:
Nokia's products have emerged with great success especially after they started using android as their OS for the last couple of years. The Nokia 4.2 phone is a great phone with a clean Android One Experience and a budget flagship. It concentrates on the essentials and sticks to the bloat-free software template of Google. 
 Having a 5-7inch IPS touchscreen, the Nokia 4.2 carries various features and a low-price tag. Some of the important specifications include 3GB RAM, a MicroSD slot, and a 13MP and 2MP dual rear camera. Though the Nokia 4.2 feels really good in the hand, its underwhelming performance along with a mediocre display is more likely to spoil the exceptional influence. 
Reasons To Buy
Has an Android interface

 

Comes with a fingerprint scanner

 

Includes a dedicated Google A

ssistant key

 

Notification LED with

 a

 power button

 

Made with a stylish glass design 
Reasons Not To BUY
Has entry-level processor 

 

Low pixels resolution camera

 

Thick bezels 

 

Average screen brightness

 

 Related: Top Phones
2: Moto G7 Play
Review: 
Motorola Moto G7 Play is an awe-aspiring smartphone option for those who are looking for a phone under 200. Having long-lasting battery life, premium network quality, and excellent performance, the phone has a large IPS LCD touchscreen, 720x1512p resolution, and faster operations with Qualcomm SDM632 Snapdragon 632 chipset and Oct-core CPU, and Android 9.0 (Pie).  
 The Moto G7 Play is affordable and zippy for daily basis use though it doesn't offer a gaming zone despite the brand claims to. The phone offers tons of apps, front speakers, and great battery backup. All this makes the Moto G7 Play a good value for your hard-earned money. The gadget has emerged as one of the amazing smartphones in recent times with the following pros and cons.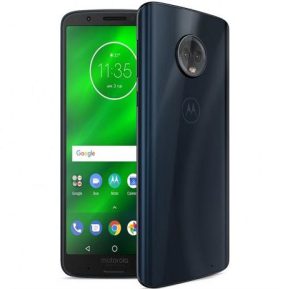 Reasons To Buy
Large touchscreen display

 

Compact body & splash resistance 

 

Premium battery life

 

4k video capturing

Operates on Vanilla Android 
Reasons Not To BUY
Insufficient 2GB RAM 

 

Poor loudspeaker quality 

 

Large notch 

 

3: Samsung Galaxy J8
Review: 
At number three, we have Samsung Galaxy J8 which comes as a surprise for Samsung lovers with its incredible functions and affordable price. It is a mid-range phone with a reasonable processor, Snapdragon 450 chipset, 64GB built-in storage, 4GB RAM, and 16MP rear & 5MP front cameras.  
 The phone contains an AMOLED panel with HD+ resolution for a vivid output. Bluetooth 4.2, VoLTE, 4G, and Wi-Fi 802 are connectivity support.  Moreover, the 3500 mAh battery allows you to spend a long use time on your mobile.  Encompassing the aforementioned and many other features, the Samsung Galaxy is one of the best Samsung phones under 200 with the following pros and cons. 
Reasons To Buy
Equipped with dual rear cameras

 

Large HD display

 

Samsung UI experience

 

Excellent processor and memory

 
Reasons Not To BUY
Expensive flagship phone

 

Slow face unlock system

 

Lacks fast charging

 

Has a plastic body

 

Related: Check Out Top 10 phones under 100 bucks
 4:
Xiaomi
Redmi
Note 7 Review: 
Xiaomi has brought several midrange phones for its users and the Redmi Note 7 is one of them. With a solid and quality build, this smartphone includes edge-to-edge protection glass for keeping it safe from scratches and damage.  
 The slim and beautiful model comes with a 6.3inch large LCD screen, quad HD+ resolution, and several other high-end features. The best part is that all these features are available to you on mobile for under £200. Having an affordable price tag, the Xiaomi Redmi Note 7 can be arbitrated based on these advantages and disadvantages.
Reasons To Buy
Long-life battery power

 

Includes rear fingerprint scanner

 

Gorilla Glass 5 Protection

 
Reasons Not To BUY
Lacks NFC 

Little weedy speaker

 

Has a dimming display

 

5: Samsung Galaxy A20e
Review:
Right off the bat, this smart gadget has an impressive design. Powered by Exynos 7 Octa 7885 chipset, 32GB internal storage, and 2GB RAM, the Samsung Galaxy A20e was introduced last year. 
 Made of a plastic body, it is relatively a compact smartphone with some of the basic specifications, such as Android OS v9.0 (Pie), the 5.8inch large LCD screen, 3G & 4G capability, a built-in GSP receiver, Bluetooth and NFC connectivity, 8MP front camera & 13MP and 5MP rear cameras with autofocus.  
 While it is a powerful handset, you cannot consider purchasing it for gaming purposes. The brand has adopted the Infinity display with a relatively low-resolution HD+ screen which may be a shortcoming of this phone.
Reasons To Buy
Long-lasting battery life

 

Includes accelerometer & proximity sensors

 

Has a fingerprint sensor

 

Dual rear cameras with autofocus 
Reasons Not To BUY
Non-removable battery 

 

Low-resolution camera 

 6:
Nokia 7.1 Review:
This phone is getting popularity as Nokia's best-unlocked smartphone that comes with great displays, attractive camera, and unbeatable performance. Thankfully, Nokia 7.1 comprises comprehensive specifications, good design, and a fine-quality display.  
 It's lightweight, has a slim design, and encompasses with powerful Qualcomm Snapdragon 636 chipset, Octa-core processor, and good gaming performance. While many features make it a good option, it does boast a range of pros and cons for your convenience to decide upon its purchase.  
Reasons To Buy
Works on

 Latest Android 8.1 (Oreo)

 

Has a 5.84inch IPS capacitive touchscreen 

 

Display with premium density 

 

Corning Gorilla G

lass 3 Protection
Reasons Not To BUY
Average battery capacity 
Lacks stereo speakers
Lacks wireless charging
feature

 7:
Xiaomi
Mi
 8 Lite
Review: 
The Mi 8 Lite has an appreciable build and a great camera experience. China-centric MIUI software, metal and glass build, slim-screen borders, 6.26inch large touchscreen display, 2160X1080 pixel panel, and a decent finish roar the way, the Xiaomi Mi 8 Lite looks like.  
 In addition to excellent chipset and processor performance, the phone is equipped with 12MP Sony IMX363 and a 5MP Samsung S5K5E8 camera. Many users find it the best camera on a phone under 200 and are happy with its overall performance.  
Reasons To Buy
Good-quality camera 

 

Excellent performance

 

Loudspeaker with good-quality audio output

 

Useful features of 

Xiaomi's

MIUI software

Fine-quality display with above-average brightness

 

 
Reasons Not To BUY
Lacks 3.5mm jack

 

Poor battery life 

 

Inconsistent portrait shots

 

 8:
BLU Vivo XL
4 6.2
Review :
The BLU Vivo XL 4.6.2 is equipped with several great features including a large 6.2inch HD+ touchscreen and a curved glass display. It also comes with a 13MP+ 2MP rear camera and a 13MP front camera with a flashlight.  
 The 4000mAh battery supports fast charging, allowing you to use the phone within 2.5 hours. Moreover, the 3GB RAM MicroSD up to 128GB, 32GB internal memory, 2.0GHz Octa–core processor, encrypted fingerprint sensor, and a premium metal finish are some of the notable elements of this phone.     
Reasons To Buy
Has an expansive 6.2inch IPS display

 

Al Accelerated Technology for Processor

 

4000mAh Super Battery 

 

Expandable 

on

board storage up to 128GB

 
Reasons Not To BUY
Low HD+ resolution

 

Has 2GHz maximum processor speed




 9:
Xiaomi
Re
d
mi
 Note 7
Review :
Comprising many features, this gadget is likely to make the brand one of the famous names for those who want midrange phones for everyday use. The Xiaomi Redmi Note 7 comes with Gorilla Glass 5 protection, a reasonable camera rear fingerprint scanner, core hardware, and awesome battery life. The gadget may not be a perfect phone since some aspects are still in need of improvement, such as its weak battery backup.  
Reasons To Buy
Long-lasting battery life

 

Flawless performance

 

Large & bright screen 

 
Reasons Not To BUY
Overblown software 

 

Slightly dim display 

 

Average-quality camera performance

Lacks NFC connectivity support 

 

 10:
Apple iPhone
 6S
 Plus
Review:
The iPhone 6S Plus emerged as a bucket of mixed elements. It comes as a perfectly usable smartphone and includes a surprisingly great build. You get enhanced speed, good quality cameras, pressure-sensitive 3D touchscreen display, high pixel resolutions, optical image stabilization, and lots more in a phone under $200.  While Apple iPhone 6S Plus has many specifications & features, it comprises a range of positives and negatives too.      
Reasons To Buy
A large 5.5inch screen

 

Awesome battery backup

 

Amazing A8 

SoC

 gaming support 

 
Reasons Not To BUY
Average-looking design

 

Little underpowered

 

Not a good option for an upgrade 




Conclusion
The year 2020 is likely to be the time for eye-popping surprises in the mobile phone industry. The aforementioned smartphones represent almost ludicrously good value for your money. Some of them might not be the perfect models but do carry basic and advanced features that are usually hard to find in a phone under 200
For more queries related to Samsung Phones, Keep visiting SamsungMobileSpecs.
NOTE: Please read the Samsung Mobile Specs Disclaimer.