On recent account (11-FEB-2020), Samsung Electronics has launched a series of wonderful premium looking devices. When a new phone get released the only common problem which the user faces is buying fancy stylish mobile covers & cases to make their phone look more astonishing and protective.
The covers for Samsung Galaxy S20, S20 Plus & S20 Ultra are available on multiple online stores but they include some raw phone cases which might take your time a lot & make your decision-making process more puzzled than before. SMS (Samsung Mobile Specs) does the hard job for you & gives you the list of one of the best Samsung S20, S20 Plus & S20 Ultra phone covers & cases. The criteria for selecting the best case depend on a variety of factors which include: Body, Type, Material, Durability, Price & of course, design.
Without further delay, let's take you to the list of Best Phone Covers of Samsung S20, S20 plus & S20 Ultra you might be thinking of buying one.
Samsung Galaxy S20 Phone Case & Covers:
Many covers for Galaxy S20 are available on various online sites, but frankly speaking, the availability of so many products boasting of their premium features confuse you about choosing one. Samsung Galaxy S20 is a phone with slim design & three standard available colour options. Buying Phone cases for your Galaxy S20 will give you an edge to go beyond's colour limitation & change the back look of your phone by choosing the Phone case of your choice. Some of the best Samsung Galaxy S20 Phone Cases have been selected to help your decision in buying one. The list is given below:
1-OtterBox Defender SE for Galaxy S20:
Many companies are in the race of making goods look good, on the other hand, OtterBox Defender is doing it both ways. OtterBox Defender Galaxy S20 case is a heavy-duty case with smart features and it's not just a back cover but a complete case for your S20.
Features:
For Galaxy S20/S20 5G
Dual Protective layer: Soft outer cover while solid inner cover.
Belt-clip holster for stand and good media viewing
Port covers.
OtterBox Warranty
Reasons To Buy
Belt-clip holster
Port Covers
Protective
Premium
Reasons Not To BUY
NO BUILT IN SCREEN PROTECTOR
Expensive: Too much for a cover
2- Galaxy S20: Thin Case
Temdan Designed case is a premium looking ultra-thin, anti-scratch & anti-fading S20 case. The reason for it on making into this list is that it is very thick, does not damage the phone body & comes in four different colour options: Clear, Blue-Matte, Pink-Matte, and Purple-Matte.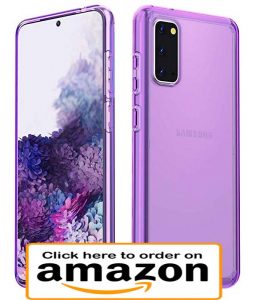 Features:
Made from Tpu Material
Can bear tear, scratch, dust & shock
Can work on with wireless charging
Reasons To Buy
4 Different Color
German body Material
Anti-yellow & Scratch
Works perfectly with wireless charging
These are the best Samsung Galaxy S20 Phone covers you should be thinking of buying before some of the other considerable options are listed below:
Samsung Galaxy S20 Plus Phone Case & Covers:
One of the obvious reasons for choosing a cover for Galaxy S20 plus is the colour. The Phones are available in three different colours. The market is stuffed with a variety of cases and covers which include low quality, rough stuff & useless to buy as well. Our site brought you the best Galaxy S20 Plus Covers. Some of the top ones are given below:
1-PLESON for Samsung Galaxy S20 Plus:
It's the best cover for Galaxy S20 Plus for many reasons. The major reason is the water-resistant capability with a built-in screen protector. There are a bundle of Samsung S20 Plus Phone cases available in the market. Few have built-in protector feature & Pleason Case is one of them which has glass protection with high-quality materials used in the construction. Some smart features of Pleson Case for Samsung S20 Plus are:
Features:
Built-in glass protection with case certified IP68 Waterproof.
Full body 360 protection
TPU & PC materials are used in construction
Shockproof & Drop-proof ( <6ft height)
Reasons To Buy
Under water-protection
IP68 certified
High-grade PC & TPU
PERFECT FIT
Reasons Not To BUY
Lag in wireless chargning
2-TORRAS Diamonds for Galaxy S20 Plus:
Torras diamond is simple but a high-quality cover case for Galaxy S20 plus. It is very thin with soft edges & anti-yellowing feature. Torras Diamon is fully protective with 5-ft drop fall-bearing tendency.
Features:
Anti Scratch, anti-yellowing, detects fingerprint well & shockproof features
Edges have a cushion for the protection of the phone.
5-ft drop-proof.
100 per cent to wireless charging
Reasons To Buy
Shock-proof
Poly Carbonate Material
Supports Wireless charging
Good Grip
Easy Installation
These are the best Samsung Galaxy S20 Plus Phone covers/cases, Some other S20 Plus phone cases are listed below:
Samsung Galaxy S20 Ultra Phone Case & Covers:
Using a third-party cover for your phone could compromise the slim design experience and the feel users expect to have, especially from these latest smartphones. To ensure that the experience doesn't get spoiled, Samsung has also launched the official Samsung Galaxy S20 Ultra Case that you can buy right now alongside the phone or separately as well. 
This Samsung Galaxy Ultra S20 Case is designed to provide the best compatibility for the phone, bringing ease of control while holding the phone, answering calls, controlling music, and every other function that you want to perform. It is much durable, providing quality protection against surface impact unless it is too intense. 
Listed below are some of the major features of this Samsung Galaxy S20 Ultra Case: 
Perfect protection for your phone with the shell-type design.

Keeps the slim-design integrity of your

 S20

 smartphone

 

Available in two different colours

,

 i.e.

,

 Black and Gray

 

Enjoy a 1-year warranty on your S20 Ultra case

 

Important info like 

the 

time, dat

e

, battery, and notifications display

 
Reasons To Buy
Durable and Slimmer

 

Shell-type design for protection

 

Amazing feels while holding

 

Displays date and time on double-tapping

 

Designed for perfect compatibility with the phone

 
Reasons Not To BUY
Quite expensive though

 

Doesn't help with the weight

 
Samsung Galaxy S20 Ultra Case LED Back Cover Review 
Just by adding a few more bucks to your budget, you could get an even better and fancier product that is Samsung Galaxy S20 Ultra Case LED Back Cover. Not just it has an exotic look to its design but its protective features are also at a whole new level bringing the durability and sturdiness that any user wishes for who has paid a handsome amount for this expensive Samsung phone. 
The most desirable feature of the product that makes this cover so appealing is its Led Back Cover that not only looks cool but does plenty of jobs for you. For instance, while taking a picture with a timer on, you can see the countdown time and know how much time you have got before you make a final nice pose. 
Also, the LED Back Cover gets its power from the phones and you wouldn't have to charge it separately, saving you a great deal of trouble. 
Some of the other major features of this Samsung Galaxy S20 Ultra Case LED Back Cover are: 
Nice see your camera's timer countdown on the back of your phone

 

A protective cover that is quite sturdy and durable.

Both Black and Gray colour options are available for the cover

 

Draws its power from the phone 

and doesn't require separate charging.
Reasons To Buy
Get notified about calls and messages

 

Sturdy and durable design

It has l

ooks that are exotic

 

US version provides 

a 

warranty as well

 
Reasons Not To BUY
The costs are h

igh

 

Not an ergonomic design

 
TORRAS Galaxy S20 Ultra Case:
One of the major benefits of getting phone covers from third-party brands is that many of them could promise a lot of premium features while still saving you the trouble of saving 50 bucks or more just for that fancier 'Samsung' logo. Though we will still recommend getting the officially launched Samsung S20 cover, people with lesser budget range can get this TORRAS Galaxy S20 Ultra Case that has hit new marks of compatibility at a price that suits everyone. 
Some of the major features of the TORRAS Galaxy S20 Ultra Case include the enhanced protection due to its X-Shock patent technology, slimmer design that doesn't add much to the thickness of the phone, and the long-lasting design that might be the best example of providing value for the money.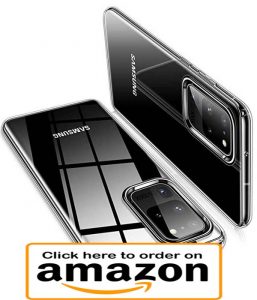 Listed below are some of the major features of this TORRAS Galaxy S20 Ultra Case: 
Much better shock and impact absorption with the 

X-Shock patent technology

A long-lasting and durable design that you can count on

 

Empowers the NFC and wireless charging functions 

enhancing the experience for your phone

 
Synchronizes amazingly well with the body of your phone without adding much to its weight and thickness
Reasons To Buy
An affordable Samsung S20 case

Supports NFC and wireless charging

 

A beautiful

,

 sleek and durable design

 

Anti-yellowing at its best

 

Doesn't feel bulky at all

 
Reasons Not To BUY
We don't think this product has any

 
Some of the other Galaxy S20 ultra Case Recommaned by us are as fellows:
Conclusion:
This concludes our article bringing you the list of best Samsung S20 and S20 Ulta phone covers and cases that are available in the market. If you found the reviews helpful, don't forget to leave us your feedback and click the links available to get yourself the protection and class you require with your Samsung S20 phones. 
For more updates on covers & Samsung Phone Price, Keep Visiting SMS ( Samsung Mobile Specs )