[2017] Samsung Galaxy On Max Price & Specification
[2017] Samsung Galaxy On Max Price & Specification
Front : Back-

:

13MP & 13MP

Processor

:

Octa-Core 1.6GHz Cortex-A53
Samsung Galaxy On Max Price List:
Samsung Galaxy On Max Camera Setup:
Samsung Galaxy On Max  Full Specification: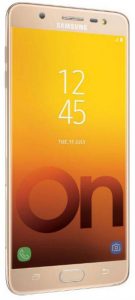 Samsung Galaxy On Max (2017) Review:
If you are interested in getting some Samsung Galaxy ON MAX details, then you have come to
the right place. Keep on reading to find out about the incredible features that this smartphone has
to offer you.
Complete Specification:
Galaxy On Max runs on the Android 7.0 operating system and has a 1.69GHz octa-core processor, which helps it in offering a good performance. Galaxy On Max is available in two elegant colours including black and gold for you to choose from. It has a 4GB RAM and internal storage of 32GB, whereas its expandable storage is up to 256GB.
This model comes along with four different sensors including proximity sensor, accelerometer, ambient light sensor, and a gyroscope. It is a dual SIM smartphone, thus you can insert both NANO and micro SIMS in it. It
has an all-metal body and a premium finish which gives this smartphone an overall elegant and luxurious feel especially because of its gold and black colours. For $166 in the current market, this is an ideal purchase.
Camera and Display:
The Galaxy On Max comes along with a 13-megapixel rear camera with a rear LED flash, and a 13-megapixel front camera as well, which will help you in capturing some of the most beautiful moments of your life. It has a 5.7 inches long touchscreen which offers a high resolution of 1080 x 1920 pixels.
Battery:
Galaxy On Max 2017 has an average battery life as its battery runs at 3300 mAh, however, there is nothing for you to worry about since the battery will last for a whole day.
Price and Release Date:
The Samsung Galaxy On Max released in July 2017. Initially, the Samsung Galaxy On Max price was $166, however as a few years have passed since its release, therefore, you can easily find it a lower price.
Buy or Not?
We think that if you are on a tight budget, then you can purchase the Galaxy On Max as you will be able to avail of some of its great features at a low rate. It has a decent solid camera, an average battery life, an all-metal body, a useful software, a good processor and plenty of storage for you to save a lot of pictures and documents. However, it is important to note that this smartphone has a slippery real panel and an average battery life.
For More information on Samsung Smartphones, Keep Visiting us.
NOTE: Slide to view the price, Only for mobile viewers)
[Pakistan]

 Price of Samsung Galaxy On Max in Pakistan Rs.22,642 Pakistani Rupee

[United States]

 Price of Samsung Galaxy On Max in the USA $166

[India] 

price of Samsung Galaxy On Max in India ₹10,599

[Australia] price of Samsung Galaxy On Max in Australia $214

[Africa] price of Samsung Galaxy On Max In Africa R 2,598 Rand

[Dubai] price of Samsung Galaxy On Max Dubai 514 AED

[Canada]

 price of Samsung Galaxy On Max in Canada 195 Canadian dollar

[Saudi Arabia]

 price of Samsung Galaxy On Max in Saudia Arab SAR 526 Saudi Riyal

[Bangladesh] price of Samsung Galaxy On Max  in Bangladesh 11,937 Taka

[Austria]

 price of Samsung Galaxy On Max in Austria 129 EURO

[Cote d'Ivoire]

 price of Samsung Galaxy On Max in Cote d'Ivoire 84,707 West African CFA franc

[Switzerland] 

price of Samsung Galaxy On Max in Switzerland 136 Swiss Franc

[Germany]

 price of Samsung Galaxy On Max in Germany 129 Euro

[Netherlands]

 price of Samsung Galaxy On Max in Netherlands 129 Euro

[Slovakia]

 price of Samsung Galaxy On Max in Slovakia 129 Euro

[Romania] 

price of Samsung Galaxy On Max in Romania 624 Romanian Leu

[Sweden]

 price of Samsung Galaxy On Max in Sweden 1,383 Swedish Krona

[Czech Republic]

 price of Samsung Galaxy On Max in Czechia 3,502 Czech Koruna

[Bulgaria] 

price of Samsung Galaxy On Max in Bulgaria 252 Bulgarian Lev

[Russia] 

price of Samsung Galaxy On Max in Russia 10,323 Russian Ruble

[Uzbekistan]

 price of Samsung Galaxy On Max in Uzbekistan 1,424,540 Uzbekistani som

[France]

 price of Samsung Galaxy On Max in France 129 Euro

[Italy]

 price of Samsung Galaxy On Max in Italy 129 Euro

[Spain] 

price of Samsung Galaxy On Max in Spain 129 Euro

[Ghana] 

price of Samsung Galaxy On Max in Ghana 811 Ghanaian Cedi

[Singapore]

 price of Samsung Galaxy On Max in Singapore 198 Singapore Dollar

[Nigeria]

 price of Samsung Galaxy On Max in Nigeria 54,598 Nigerian Naira

[Sri Lankan] 

price of Samsung Galaxy On Max in Sri Lanka 26,981 Sri Lankan Rupee

[ UAE ] 

price of Samsung Galaxy On Max in UAE 514 United Arab Emirates Dirham

[ QATAR ] 

price of Samsung Galaxy On Max in QATAR 509 Qatari Rial

[Malaysia] 

 price of Samsung Galaxy On Max in Malaysia 608 Malaysian Ringgit

[Hungary]

 price of Samsung Galaxy On Max in Hungry 45,894 Hungarian Forint

[Ethiopia]

price of Samsung Galaxy On Max in Ethiopia 4,686 Ethiopian Birr

[Croatia] 

price of Samsung Galaxy On Max in Croatia 976 Croatian Kuna

[Kuwait]

 price of Samsung Galaxy On Max in Kuwait 43 Kuwaiti Dinar

[United Kingdom

]

price of Samsung Galaxy On Max in UK 112 Pound
[China]

 price of Samsung Galaxy On Max in China 990 Chinese Yuan

[lithuania]

 price of Samsung Galaxy On Max in Lithuania 129 Euro

[Georgia]

 Price of Samsung Galaxy On Max in Georgia 448 Georgian Lari
[Denmark]

 price of Samsung Galaxy On Max in Denmark 962 

Danish Krone

[North Macedonia]

 price of Samsung Galaxy On Max in North Macedonia 7,956 Macedonian Denar

[Poland]

 Price of Samsung Galaxy On Max in Poland 586 

Poland złoty

[Japan]

 Price of Samsung Galaxy On Max in Japan 14,908 Japanese Yen
[2017] Samsung Galaxy On Max Price & Specification - Complete Specification
General
Technology

Released ON

Colors
Body-Built
Aspect

Assemble

Weight

SIM

Dual Sim
Display
Type

HD IPS Display, 16M colors

Size

Resolution

Protection
Memory
RAM

Internal Storage

Card slot
Camera
Rear CAMERA

Rear Camera Setup

Rear Cam Features

Video Recording @

Selfie Camera

Selfie Camera Setup

Selfie Cam Features

Selfie Cam Video Recording @
Audio
3.5mm jack

Loud Speaker Jack
Links
WLAN

Wi-Fi 802.11 b/g/n, Wi-Fi Direct, hotspot

Bluetooth

USB

GPS
Battery
Battery Capacity

Fast Chargning

Wireless Charging
[2017] Samsung Galaxy On Max Price & Specification - User Reviews