4: Samsung Galaxy S9 Camera:
When we talk about the camera in a smartphone, then there will be no doubt that Samsung tops the Android world. It has produced and showed high-quality cameras in its some renowned mobile phones like last year Samsung Galaxy S8 and Note 8.
According to the predictions and rumors there will a 12-megapixel dual camera on the rear side of Samsung Galaxy S9 which is the same as last year Galaxy S8 phone, but reports have claimed that it will be somewhat advanced and superior to its predecessor.
An 8-megapixel front facing the camera in Samsung Galaxy S9 smartphone, but with higher and quicker frame rates will be enough for selfies.
Reports also claim that there will be a difference in both upcoming Samsung S series mobile phone, Galaxy S9 and Galaxy S9 plus regarding the camera. We got news that there will be a dual lens in S9 plus whereas Galaxy S9 will have a single glass.
The time will tell the truth whether the assumptions are accurate or just rumors, therefore we have to wait and let the time decided to unlock the fate of Samsung Galaxy S9 smartphone.
5: Samsung Galaxy S9 Processor:
There is the news that the most awaited Samsung Galaxy S9 mobile phone will release next month in February at WMC conference, Samsung confirms that. But whether it will be using a next-generation Qualcomm Snapdragon processor or not. It is a mystery until we get any new from reliable sources.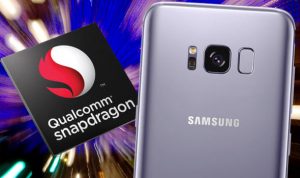 The rumors are indicating that Samsung is going to use next-gen Snapdragon processor 845 in its forthcoming Samsung Galaxy S9 mobile phone. If so then it will be a power pack device in term of multitasking and extreme functions. But here we are just guessing and posting our predictions and assumptions, and the rumors may be wrong, maybe the upcoming Galaxy S9 smartphone has other specs and even more compelling processor.
6: Samsung Galaxy S9 Face Recognition technology:
Samsung has introduced a facial recognition technology in its last year blockbuster Galaxy S8 smartphone, but it was not promising as the iris scanning technology by Samsung was overtook by the hackers. Since then Samsung officials have claimed that they are working on this technology to improve facial recognition and make it secure.
Apple used advanced Face ID checker in its last year iPhone X which was very secured and it has the power to scan 30000 dots, whereas Samsung claims that its upcoming Galaxy S9 phone powered by Qualcomm Snapdragon 845 will be able to examine 50000 dots at the same time.

We will see what will be the future of Samsung Galaxy S9 smartphone. Will it be more qualified facial recognition system or the same as we saw in Samsung Galaxy S8 smartphone?
S9 Battery & Os